Features:
This is a 10 in 1 camera lens kit, with 10 different lenses in it, enjoy a colorful photography life!
Portable and detachable, you can take photo with your devices at any time anywhere
Work on most type of mobile phones that are not bigger than 13mm diameter.
High Clarity: Made of high-class glass
The Flash Light will be blocked when the lens is in use.
198° Fisheye Lens:
Angle: 198 degree
Magnification: 0.28X
Lens Construction: 3 elements in 3 groups
Max Diameter: 25mm
Length: 15mm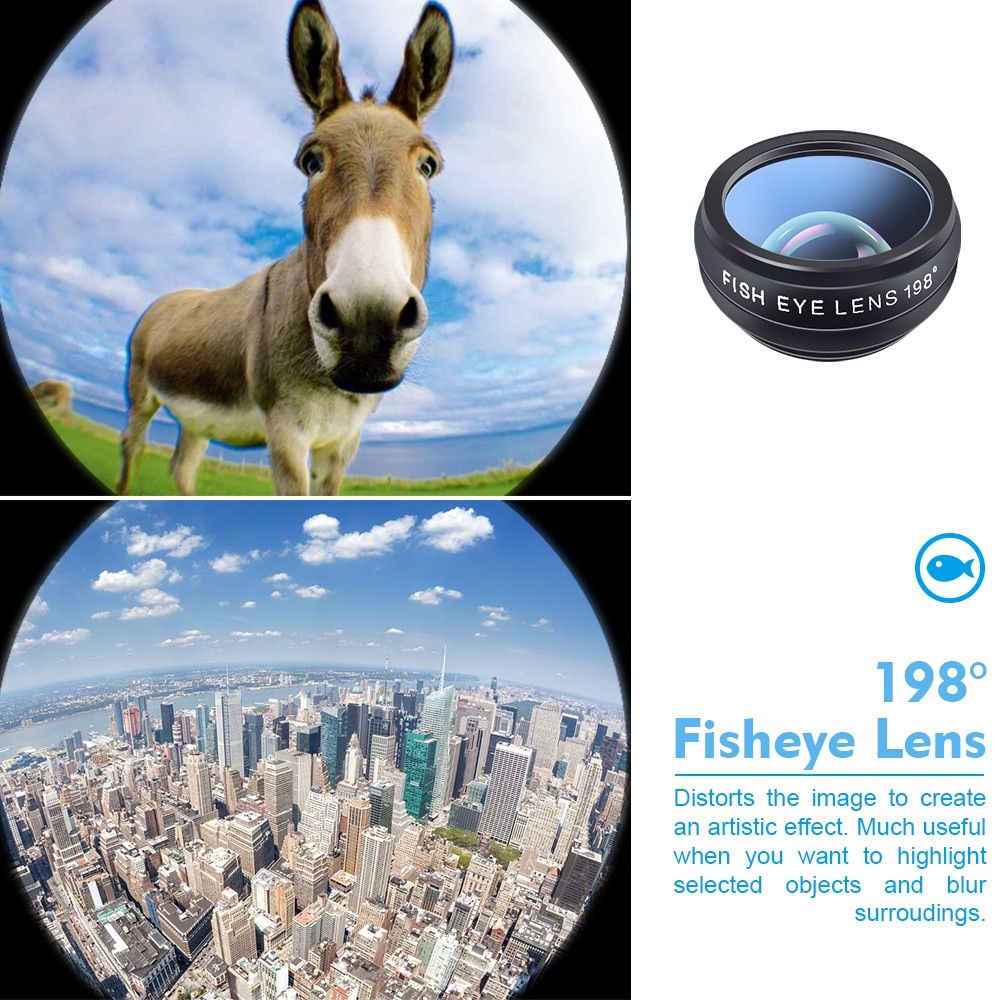 15x Marco Lens:
Magnification: 15X
Lens Construction: 1 element in 1 group
Max Diameter: 20mm
Length: 6mm
The shot distance is between 10~23mm
Note: when you get the item, the wide angle lens and macro lens are screwed together, you can screw it to get one wide angle and one macro lens
0.63x Wide Angle Lens:
Magnification: 0.63X
Lens Construction: 2 elements in 2 groups
Max Diameter: 20mm
Length: 5mm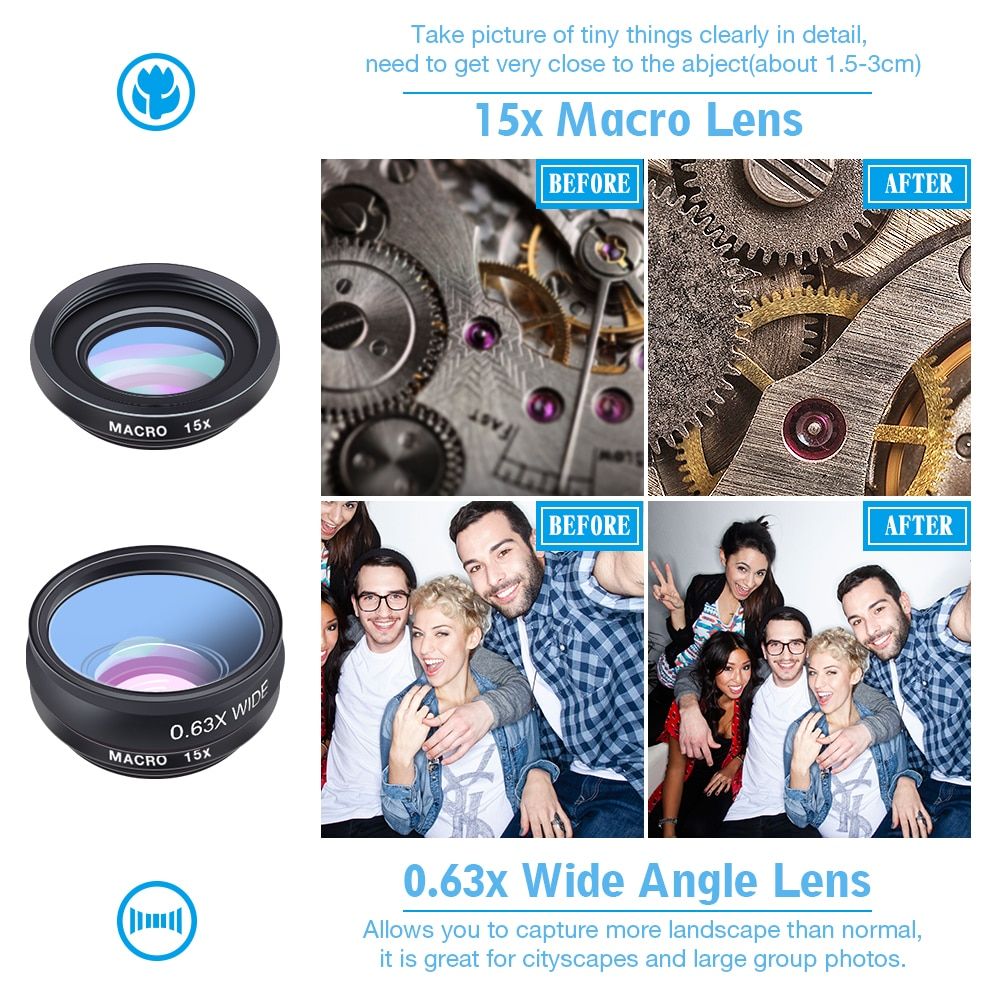 2x Telescope Lens:
Magnification: 2X
Lens Construction: 2 elements in 1 group
Max Diameter: 20mm
Length: 11mm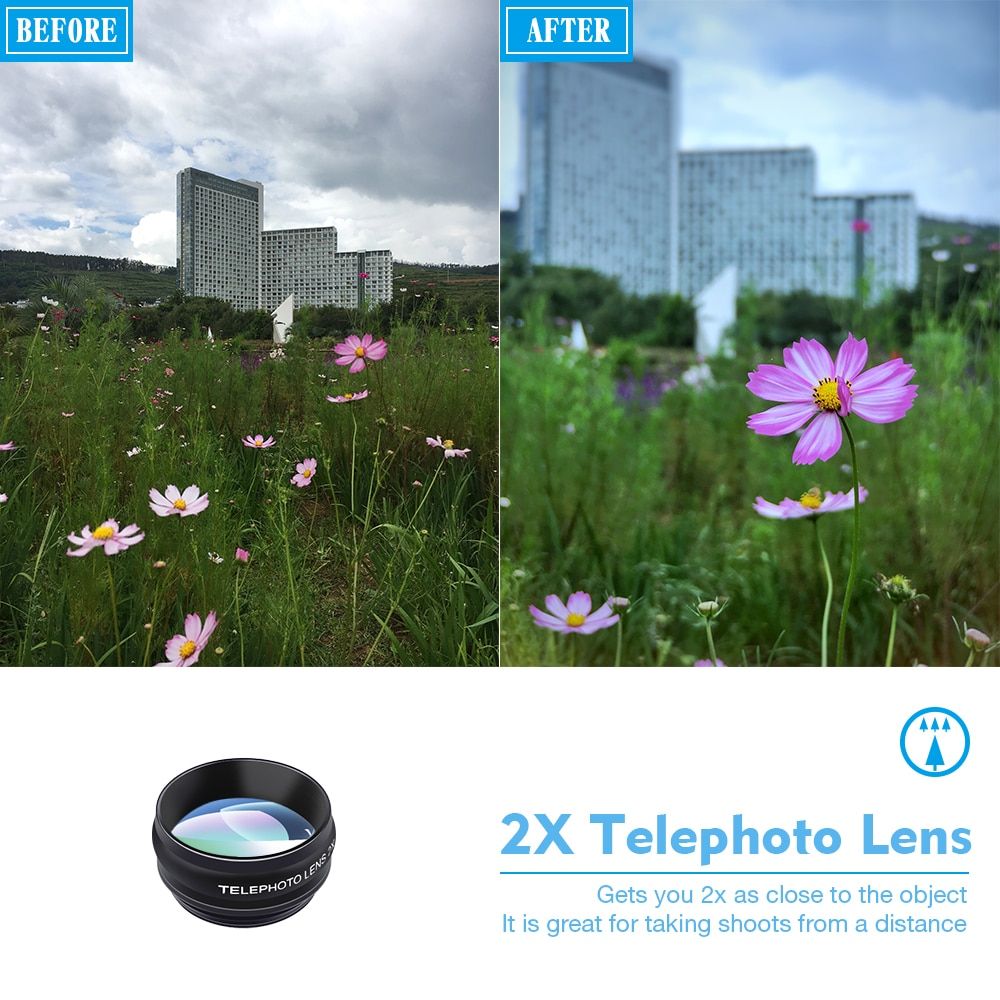 CPL Lens:
Lens Construction: 2 elements in 2 groups
Max Diameter: 20mm
Length: 8mm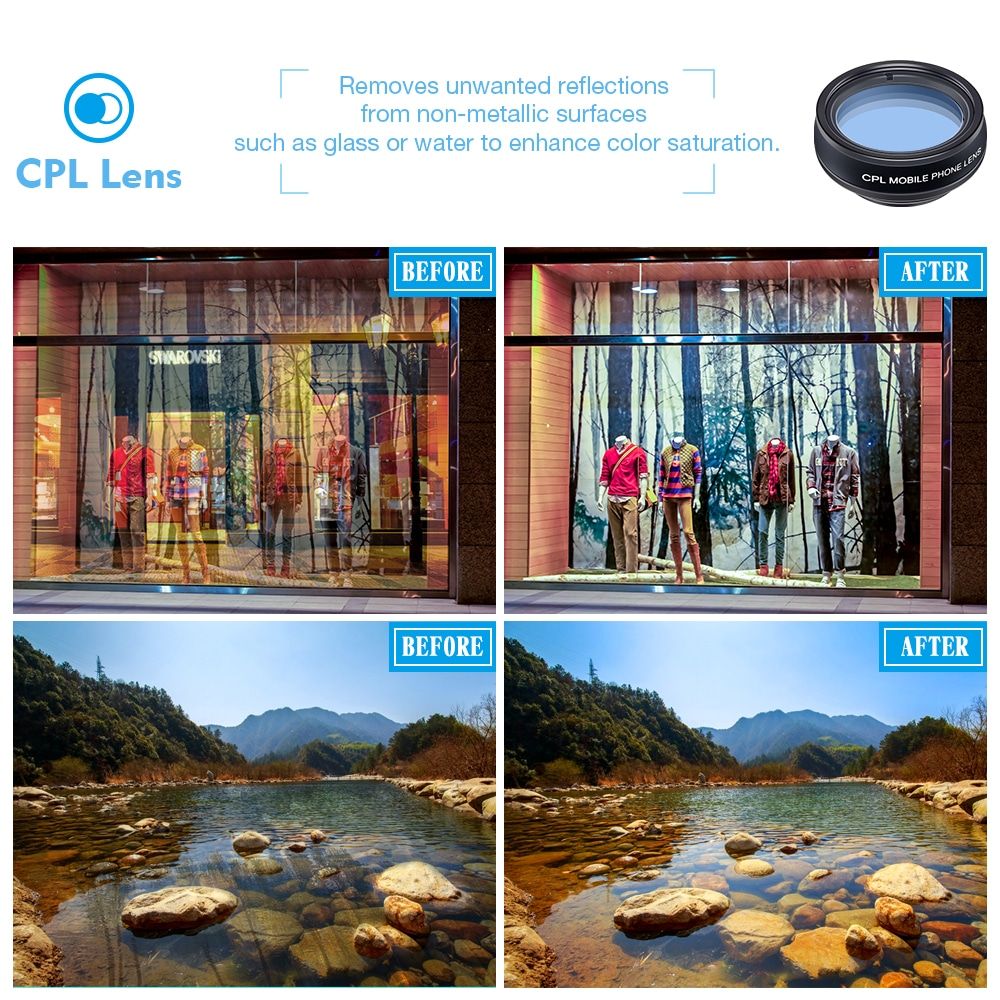 Kaleidoscope Lens:
Lens Construction: 1 element in 1 group
Max Diameter: 20mm
Length: 8mm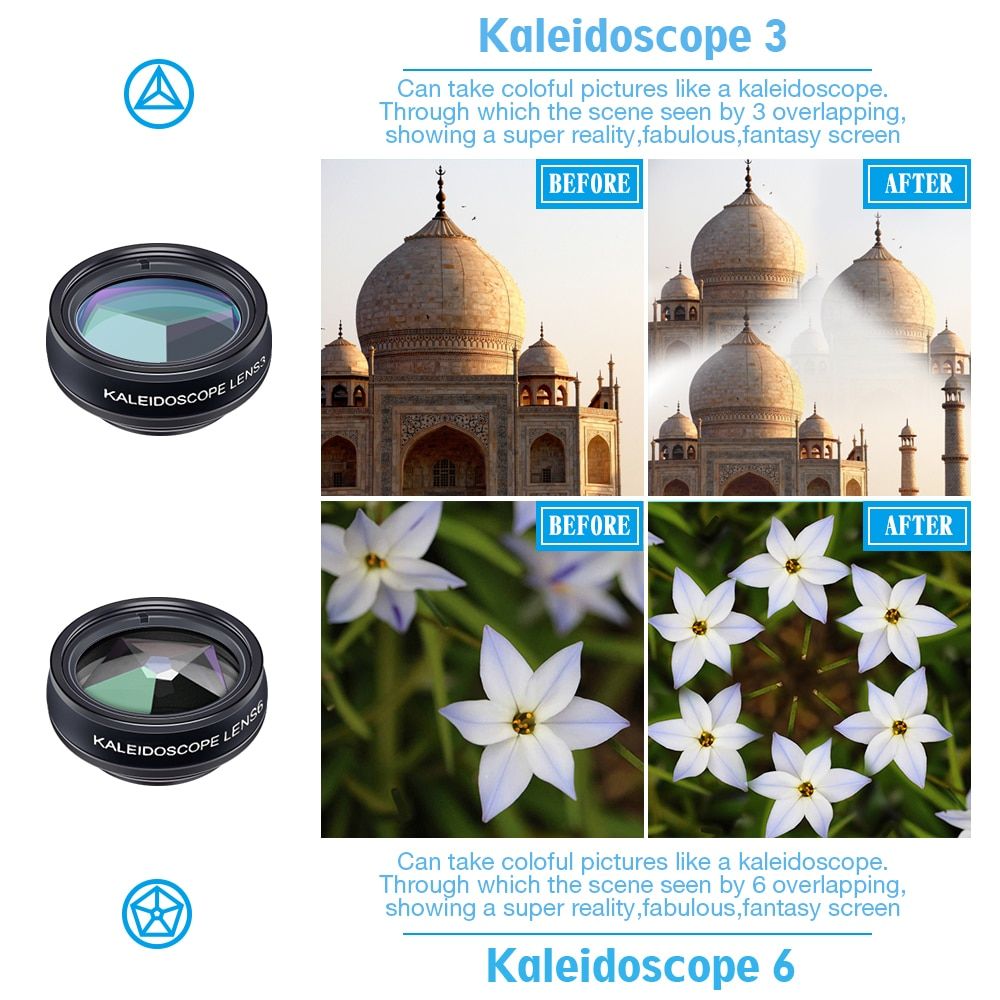 Flow Filter Lens:
Lens Construction: 2 elements in 2 groups
Max Diameter: 20mm
Length: 8mm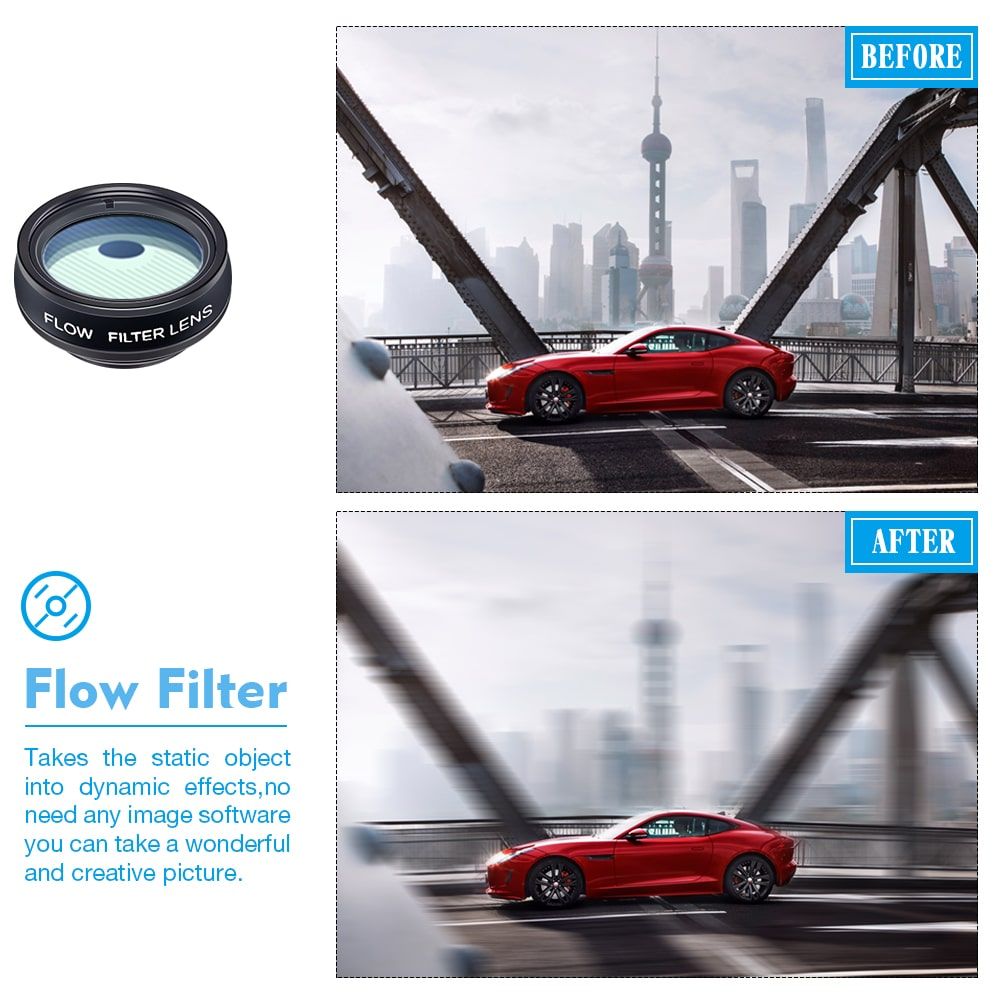 Radial Filter Lens:
Lens Construction: 2 elements in 2 groups
Max Diameter: 20mm
Length: 8mm
Star Filter Lens:
Lens Construction: 2 elements in 2 groups
Max Diameter: 20mm
Length: 8mm