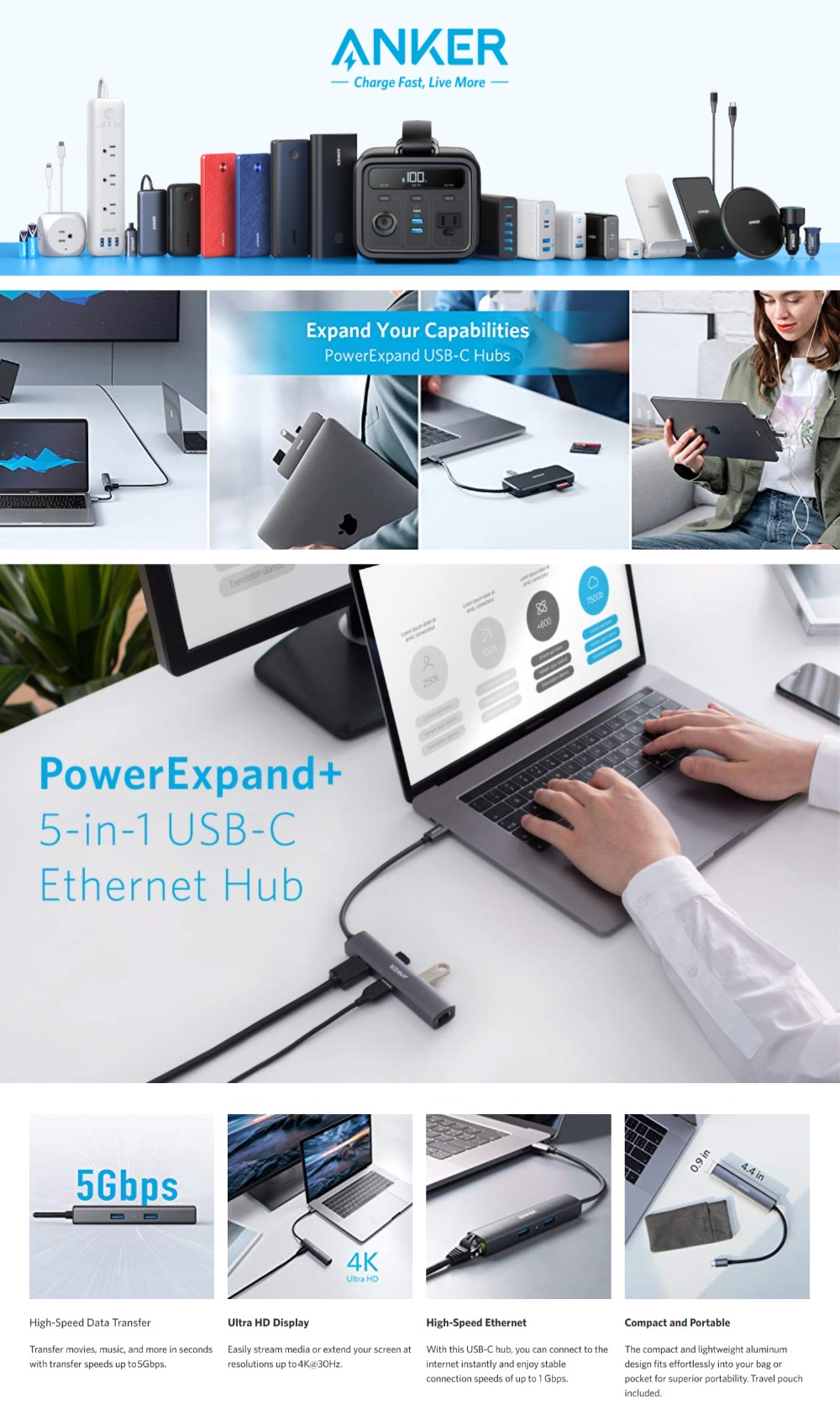 Model Number: A8338
PowerExpand+ 5-in-1 USB-C Ethernet Hub
The Ultra-Compact Premium USB-C Hub
Five in One
Get 3 USB data ports, 1 HDMI multimedia port, and 1 high-speed Ethernet port—all in one hub.
Vivid Video, Speedy Sync
Access 5 Gbps data transfer speeds with the 3 USB ports, or connect to the HDMI port to stream videos in crystal-clear 4K at 30Hz.
Instant Internet
Instantly connect to the internet via the 1 Gbps Ethernet port for a stable and reliable connection. Perfect for areas of your home with poor Wifi connectivity.
Premium Construction
The USB-C hub's aluminum surface dissipates heat, and the braided nylon cable is designed to withstand up to 2000 bends.
Compatible Devices Include:
MacBook / MacBook Pro ( 2020 / 2019 / 2018 / 2017)
MacBook Air (2020 / 2019 / 2018)
iPad Pro (2020 / 2019 / 2018)
XPS (13 inch / 15 inch)
Pixelbook (2017 / 2018 / 2019)
Incompatible Devices:
Nintendo Switch
Apple USB SuperDrive
Supported Systems:
Windows 10, 8, 7, Vista, XP, Mac OS X 10.6 or later, Linux 2.6.14 or Later
Please Note:
-Only iPad Pros with iPad OS are compatible
-For a stable connection, avoid connecting devices that exceed a total of 900 mA. Devices are usually rated as follows:
Mouse 100 mA
USB Flash Drive 100 mA
Camera 300 mA
Keyboard 500 mA
External Hard Drive 900 mA
-The extended cable is 0.6 ft long.
Frequently Asked Questions
1. Does this hub support charging?
No, it doesn't support charging.
2. I can't get the Ethernet port to work. What should I do?
Try some of the following steps:
1) Reinstall the Ethernet driver.
2) Try this device with a different computer/ethernet cable and see if the issue persists.
3. I can't get the HDMI port to work. What should I do?
Try some of the following steps:
1) Confirm if the connected USB-C port of your device supports DP Alt Mode. To do this, please consult your device's user manual, contact the seller, or check the manufacturer's website.
2) Try a different computer and HDMI cable to see if the issue still persists.
3) Plug your HDMI cable directly into your device and see if you get a stable connection. If you can't get a stable connection, then the problem is with your HDMI cable.
4) Verify that your monitor is configured to the correct input (HDMI).
4. What resolution does this device support?
The HDMI port supports a variety of resolutions up to [email protected] and [email protected], including 1080p, 1080i, 720p, and 480p.
5. Does this hub work with iPad Pro?
Yes, but you must update to the latest version of the iPad OS.
6. Does this hub get hot?
When the hub is fully loaded, it may reach a surface temperature of around 113°F. However, this is normal for products of this kind.