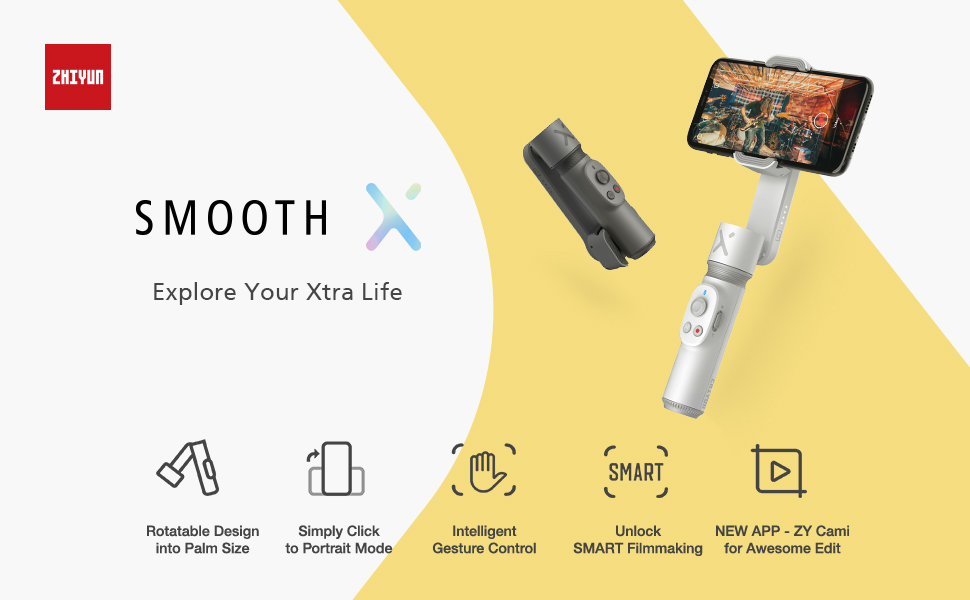 【2 IN 1 SELFIE STICK 2-AXIS GIMBAL STABILIZER FOR SMARTPHONE】- With the innovative power of a phone stabilizer, Smooth-X is a 246g lightweight selfie stick which help you take beauty and steady selfie moment or Tik Tok videos smoothly like a movie/film.
【EXTENDABLE, FOLDABLE AND COMPACT DESIGN】- An extendable body of 10.2 inches maximum length with a durable aluminum rod is great for group selfies. Foldable design makes Smooth-X a portable and travels pocket-size selfie stick gimbal.
【BLUETOOTH UNIVERSAL AND INTELLIGENT GESTURE CONTROL】- Taking photos or recording videos effortlessly with Bluetooth wireless control. Widely compatible with smartphones, iPhone 11/11 Pro/Xs/Xr/SE, and Samsung Galaxy Android phones under 235g. With the "ZY Cami" app, you can also capture the steady moments by showing a "V" gesture or waving to the camera.
【QUICK PORTRAIT MODE SWITCH】- Easily and wirelessly switch between portrait and landscape mode by double-clicking "M" button on Smooth-X. Start recording your IG story or Tik Tok videos, vlogging and YouTube live streaming in your unique style.
【INTELLIGENT NEW "ZY CAMI" APP】- Designed for Smooth-X, "ZY Cami" app offers creative filmmaking templates for you. You can create/edit professional movies and fun videos with simple clicks. Face/Object tracking, slow motion, time-lapse and panorama functions offer you more creative ways to play.
Please follow the User Guide to do Installation and Balance Adjustment, or it would cause a product damaged
Smooth X is not compatible with ZY Play App, please use
Registration by ZY Cami App is required for first use, or be gimbal would not be activated.
Installation Step
Rotate the handle 180 degrees; counterclockwise.
To unfold the vertical arm, pull out and tilt the pan axis to certain degrees.
Rotate the vertical arm 180 degrees; counterclockwise. It can be only rotated in one direction.
Return the pan axis to the initial position and retrieve the extendable stick.
ZY Cami Compatible List:
Requires iOS 10.0 or higher.
Compatible with iPhone Xs Max, iPhone Xs, iPhone XR, iPhone X, iPhone 8 Plus, iPhone 8, iPhone 7 Plus, iPhone 7, iPhone 6s Plus, iPhone 6s, iPhone 6 Plus, iPhone 6, and iPhone SE
Requires Android 7.0 or higher.
Sumsung Galaxy 10+/S9+/S9/S8+/Note 9/Note 8
OPPO Reno/Find X/R15/Realme X50 Pro/Realme X ; VIVO NEX S/X27
One Plus 7 Pro/6T; Google Pixel 3XL ; MI Mi 9/8, Mix 3/2
Google Pixel 2 XL, Google Pixel 2